Could you imagine peeling 40 fresh cloves of garlic? Some people do to make the French classic 40 clove garlic chicken. Personally, I think it's a big waste of time.
There's a lot of flavour and goodness in those garlic skins. Leave them on and make my version. You'll be glad you did because the end result tastes better. I promise.
I love this recipe. There is a lot of extra sauce too that's fantastic poured over the chicken and perhaps a plain pasta such as spätzle like I did in the photographs here.
I always like to purchase products that have been grown or raised here in the UK if possible. Look for rock hard fresh homegrown garlic with skins that are tight. Happy free range chicken are a must. I mean happy when they were alive of course. They probably didn't care much for the farmer's monetary plans for them. Barn raised chickens are sad chickens that eat their own poo so they come no where near my plate.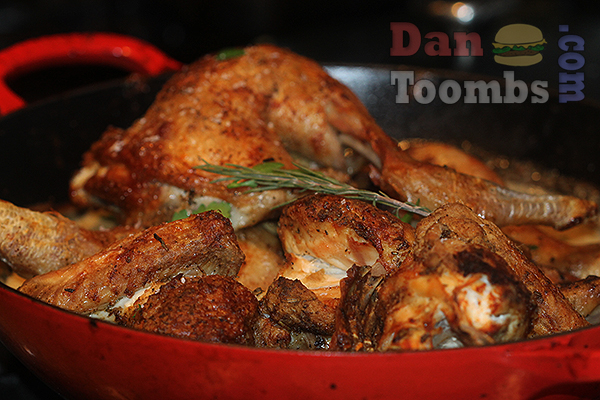 Rustic 40 Clove Garlic Chicken
Ingredients
2 free range chicken - quartered
4 tablespoons olive oil
flour for dusting the chicken
4 - 5 branches rosemary - leaves removed
3 tablespoons fresh thyme leaves
40 - 60 cloves garlic (I used 60)
3 tablespoons butter
1 cup (250ml) chicken stock
1 cup (250ml) dry white wine
1 cup (250ml) double cream
Salt and pepper to taste
Instructions
Preheat your oven to 200c (400f)
Using a spice grinder or pestle and mortar, pulverise the rosemary and thyme into a powder.
Add the herb powder to about a cup of flour and season generously with salt and pepper.
Dust the chicken pieces in the flour and shake off any excess flour.
Heat the olive oil over medium high heat until bubbling.
Brown the chicken pieces in batches in the hot oil. Be careful not to burn the flour. It's fine if it is dark brown but black is burnt and you will need to start over.
Lower the heat and add the garlic cloves. Stir them into the oil.
Now add the butter, chicken stock and wine and bring to a simmer.
Place the browned chicken skin side up over the stock and place in the oven for about have an hour or until the chicken is crisp and cooked through.
Remove the chicken from the pan and add the cream.
Using a blender or a hand held blender, blend until you have a smooth sauce. Return to the pan and season with salt and pepper to taste.
Place the chicken back on top of the sauce and serve.