Where I grew up in California, there was a large Filipino population. Not nearly as large as the Mexican population, however so Mexican food became a lot more popular.
Adobo recipes were for many years something I'd find in my Mexican cookbooks.
Then one day I was introduced by a friend to Filipino adobo. It is the same in name but is nothing like Mexican adobo.
Filipino adobo is much closer to Chinese. In fact when I served this to my family, they all thought it was a new Chinese dish.
Whatever its influences, Filipino adobo is awesome. There are so many recipes for chicken and pork belly adobo but I think this is the best that you can do in your kitchen. I have a smoky slow cooked barbecue version I'll share with you this Summer.
One of the things I like about pork belly is the crispy crackling you get when you roast it. There was no way I wanted that crispy fat to go into the sauce and become soggy. So I roast the pork belly separately.
By the way, the crackling got gobbled up by my three kids before I had a chance to get the meal to the table. That's why you don't see any in the photographs. Next time I'm going to hide it.
If you like this recipe, you might like to try some of these too…
Spaghetti with Lardo and Artichokes
Portuguese Pork Tenderloin
Homemade Chilli con Carne
Pasta Bolognese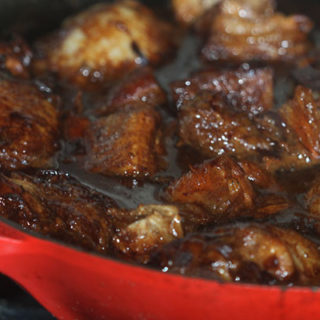 Chicken & Pork Belly Adobo
Yield: 4 - 6

Prep Time: 10 minutes

Cook Time: 1 hour 10 minutes

Total Time: 1 hour 20 minutes
Ingredients
750g (1 1/2 lbs) whole pork belly
750g (1 1/2 lbs) chicken thighs on the bone
3 tablespoons olive oil or vegetable oil
1 onion - finely chopped
4 bay leaves
1 tablespoon whole black peppercorns
20 cloves garlic - minced
250ml (1 cup) white wine vinegar (plus a little more for serving)
250ml (1 cup) soy sauce
400ml Coconut milk
3 tablespoons brown sugar
1 cup water or chicken stock
Salt to taste
Instructions
Preheat your oven to its highest setting.
Score the fat of your pork belly and rub salt all over it. Let sit while your oven heats.
When the oven is up to temperature, place your pork belly on a rack in a a baking dish and roast until the crackling is all crispy. This should take about 25 minutes.
Reduce the heat of the oven to 180c (360f) and roast for a further 30 minutes.
Meanwhile, heat the oil in a large pan and brown your chicken.
Toss in the chopped onions and fry until the onions are soft and translucent.
Add the garlic and fry for a further minute before adding the soy sauce, vinegar, brown sugar, bay leaves and water or stock.
Simmer the chicken in this sauce over low heat for about 20 minutes to reduce it some.
When your pork is cooked, remove the crackling and cut the meat into large cubes. Add the cubes to the sauce. Eat the crackling or save it for later.
Add the coconut milk.
Season with salt and pepper to taste.
I like my sauce to be quite vinegary. If you do too, add a little more vinegar just before serving.
Chicken and pork belly adobo goes great with simple white rice.
I hope you enjoy this pork belly adobo recipe. If you do give it a try, please don't be a stranger. Leave a comment. I'd love to hear from you.