Although I did try roast potatoes long before I moved to Britain, I consider them to be a British thing.
Almost every country has a roast potato dish but for me roast potatoes are the essential side to a British Sunday dinner.
I've experimented a lot to get them just right. You can use either goose fat or olive oil. I tend to use goose fat on special occasions for these easy roasted potatoes.
Occasions like Christmas when my wife doesn't watch my diet so closely. At other times of year I use a good quality extra virgin olive oil. That's what I did today.
Roast potatoes need to be crispy on the outside and nice and fluffy in the centre. You'll achieve exactly that if you follow this recipe.
If you like this easy roasted potatoes recipe, you might like to try some of these recipes too…
Twice baked potatoes
Italian style green beans
Salmon and broccoli pasta bake
Baked haloumi and tomatoes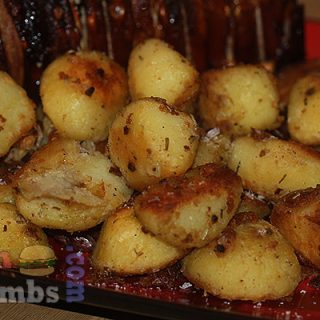 Dan's Perfect Roast Potatoes
Yield: 6

Prep Time: 10 minutes

Cook Time: 1 hour

Total Time: 1 hour 10 minutes
Ingredients
6 large potatoes - peeled and cut into two inch pieces
125ml olive oil
Maldon (or another flaky salt) to taste
1 teaspoon dried rosemary
4 cloves garlic - smashed
2 teaspoons plain white flour
Freshly cracked black pepper
Instructions
Preheat your oven to it's highest temperature
Bring a large pot of salty water to a boil
When boiling, toss in your spuds and simmer for about eight minutes. To check for doneness, you should be able to easily scrape into a potato with a fork but the centre should still be quite hard.
Drain completely and return to the pot.
Now sprinkle in the flour and give the potatoes a few good hard shakes so that they fluff up on the outside.
Heat a large frying pan over medium high heat and pour in about 100ml of the oil.
When hot, pour the potatoes in and brown them all over for a few minutes. Season with the rosemary, salt and pepper.
Now place the pan in your oven to continue cooking. About 40 minutes should do the trick. Be sure to give the potatoes a good shake every ten minutes or so.
Serve immediately.