I love serving an array of salsas with Mexican food and this tomatillo salsa recipe works great with meat or fish.
I actually used a mixture dried Anch and Guajillo chillies as those are what I had on hand but the tomatillo salsa works very well with any dried chillies. Just remember to cut the tough veins out you will notice inside them and also to soak them for around 15 minutes in boiling water so they are not tough.
Even though there are quite a lot of dried chillies used this tomatillo salsa is believe it or not that spicy. Dried chillies are not as hot as fresh ones so if you do like the extra heat add some red or green fresh chillies before you blend everything together.
If you do require the salsa to take on the green colour of the tomatillos then feel free to add more tomatillos as the red colour of the dried chilles does take over so the green colour of the tomatillos tends to be lost.
If you enjoy this recipe try my other Mexican salsas:
Restaurant Style Salsa
Creamy Salsa for Fish
Fish Tacos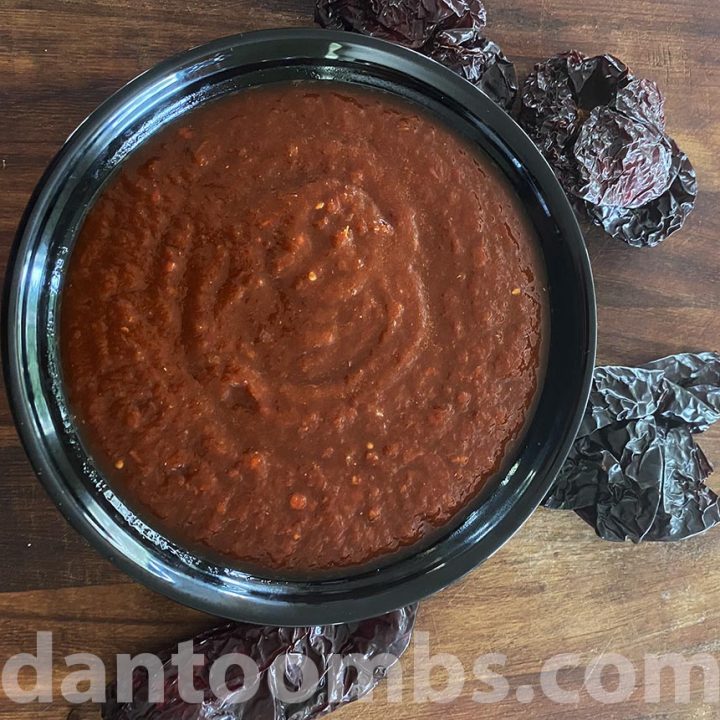 Easy Tomatillo and Dried Chilli Salsa Recipe
Ingredients
4 Dried Ancho Chillies
4 Dried Guajillo Chillies
1 Pound ( 500 g ) Tinned Tomatillos
1 Medium Onion
3 Tbsn White Wine Vinegar
Salt
Instructions
Remove the veins and the hard parts from inside the dried chillies as these can be tough.
Heat the dried chillies over a medium heat in a griddle pan until they are very lightly roasted
Soak the dried chillies in boiling water for around 15 minutes
Add all of the ingredients to a blender and blend until smooth