Fried fish tacos are just dream food! This recipe for perfect Mexican fish tacos is very quick and easy and goes amazingly well with my creamy fish salsa and/or a tomato or tomatillo salsa if you want to be healthier.
Fried fish tacos can be made with any chunky white fish. I love cod or haddock but fish like cat fish also works too so use whatever fish you can lay your hands on that isn't too expensive.
I enjoy my fried fish tacos served on corn tortillas but flour corn tortillas are a great alternative if these are what you have to hand. Here in the UK, you can purchase freshly made corn tortillas from The Cool Chilli Company.
They're authentic and delicious.
Make the recipe for fish tacos your own:
If you like really spicy fried fish tacos think about maybe adding chilli powder along with the cayenne powder to the batter.
Also you may want to grate some cheese on the top of the tacos along with spooning the salsas on top.
Fried fish tacos can be made any way you choose so feel free to add to the top of the tacos your favorite Mexican ingredients.
If you enjoy this recipe try these similar ones:
Creamy Salsa for Fish
Pork Carnitas Tacos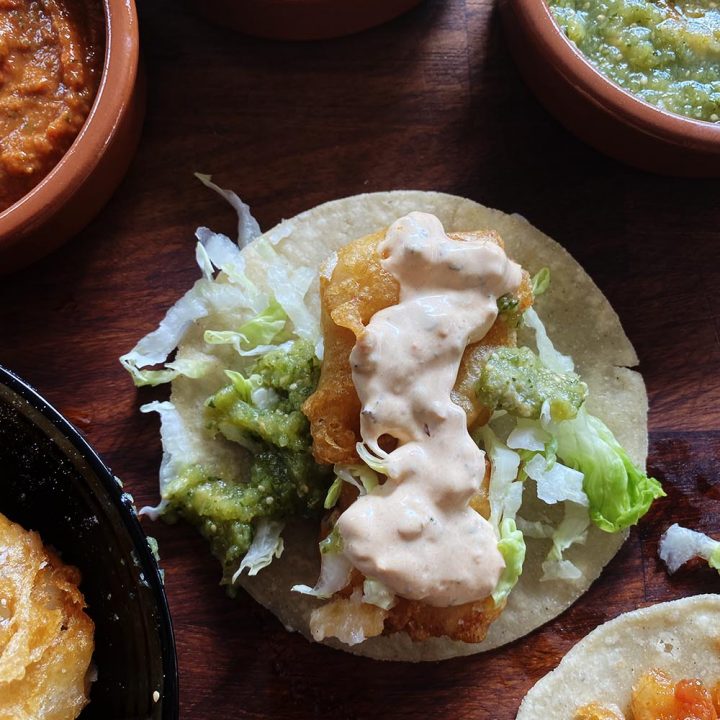 Fried Fish Tacos
Ingredients
700 g ( 1.5 pounds ) fresh white fish
For the batter:
300 ml ( 1 Cup ) Beer
125 g ( 1 Cup ) All Purpose Flour ( Plain Flour )
1 tsp Cayenne Pepper
1 tsp Salt
1 tbsp Rapeseed ( Canola ) Oil
8-10 Corn Tortillas
Lettuce/Soured Cream/Cheese/Salsas or whatever you choose for the top of the tacos
Instructions
Whisk the ingredients for the batter together
Heat the oil to 180 C ( 350 F )
Cut the fish into large chunks
Dip each piece into the batter
Fry each piece in the oil for around 5 minutes
While the fish is frying heat the oil in a non stick frying pan and gently fry the tortillas for a minute on each side until lightly browned.
Serve the fish in the tortillas with the toppings of your choice