This Lancashire hot pot recipe is one of my all time favourites, especially during the Winter months.
This is my wife Caroline's recipe from when she was growing up. She used to be asked to make it by her family at least once a month and I can totally understand why. It's amazing.
Now she makes it for our family and we're so glad she does.
Although it is equally as delicious in the Spring time, I love this dish when it's cold outside and the lamb is closer to mutton in flavour. We only buy our meat locally so it tastes like mutton because it probably is this time of year.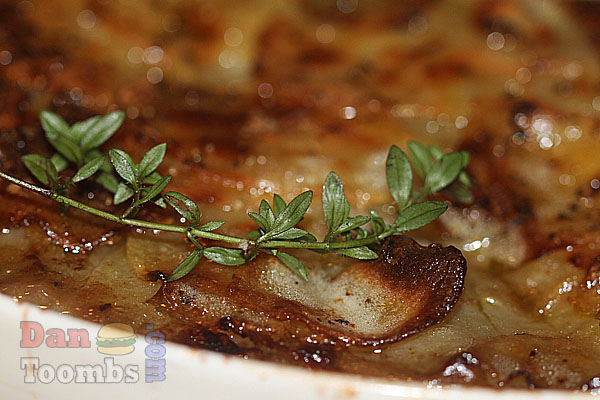 If you like this recipe, you might like to try some of these too…
Normandy Style Turbot and Sole Stew
Seafood Pancakes with Lobster and Garlic Confit
Barbecued Burritos – Hobo Style
Portuguese Pork with Paprika and Wine Sauce
The Best Macaroni and Cheese Ever
Roast Leg of Lamb with Chimichurri Sauce
Authentic Fish Tacos
German Sausages
N'duja Pasta
Raw Oysters with Chipotle and Lime Sauce
Lancashire Hot Pot
Yield: 6

Prep Time: 15 minutes

Cook Time: 1 hour 20 minutes

Total Time: 1 hour 35 minutes
Ingredients
1 leg of lamb - cut into bite sized pieces - save the bone
2 lambs' kidneys - finely diced
1 - 2 litres lamb, chicken or game stock
3 carrots - diced
2 onions - finely chopped
5 potatoes - sliced wafer thin
Plain flour for dusting the meat
5 tablespoons olive oil
3 tablespoons unsalted butter
3 tablespoons finely chopped rosemary
6 sprigs thyme
3 tablespoons finely chopped parley
2 bay leaves
Salt and pepper to taste
Instructions
Dust the lamb and kidney pieces with the flour and brush off any excess.
In a heavy bottomed pot, heat 3 tablespoons of the olive oil.
When hot, brown the meat. You may want to do this in batches.
Remove all the meat to a bowl and fry the onion until soft and translucent. Add more oil as required.
Now add the garlic and diced carrots and fry for a further couple of minutes.
Pour in enough stock to cover and add the herbs and salt and pepper to tastes..
Simmer until the meat is tender.
Meanwhile, slice your potatoes. I use a food processor to get them as thin as possible and to save time.
Pour the meat and liquid into the oven ready dish you plan to serve in and then layer the potatoes over the stew. You should get about five layers of potatoes but this will vary depending on the size of your serving dish.
Be sure to add a little butter and oil to each layer so that it crisps right up.
When ready to bake, pre-heat your oven to 200c (400f) and bake until the stew is hot and the layered potatoes are crispy and browned on top.
Remove from the oven and allow to settle for about ten minutes before serving.
Season with a little salt and pepper and serve.